DIVORCE LAW ATTORNEY IN SOUTHFIELD, MICHIGAN
Facing divorce is one of the most stressful legal issues you can go through. There's no sugar-coating the fact that divorce causes chaos and crisis in your life. When you begin to contemplate divorce, or if your spouse files for divorce against you, you are suddenly thrown into a nerve-wracking world of questions, lawyers, life-altering decisions and courtrooms. So you want the best help you can get. It's important to have a strategic attorney by your side that will commit to easing your stress levels and aggressively fight for your rights and assets to be protected.
As a practicing divorce law attorney, I have extensive experience working through the many meticulous details of a divorce or legal separation. Whether your divorce is an amicable situation or an unfriendly one, every divorce is important and each client deserves to be well represented. Divorce decisions can have a lasting impact on your life, which is why it's important to work with someone who is not only knowledgeable but who also truly cares. I am committed to working methodically and thoroughly to ensure that you and are well represented through this important life change.
FIND AN AMICABLE SOLUTION BEFORE GOING TO COURT
Divorce doesn't have to spell out disaster for your future. The word alone often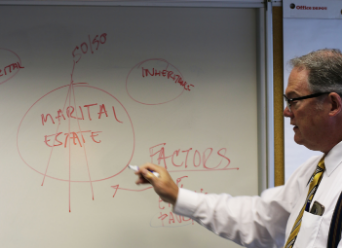 brings up images of angry, shouting exes, exhaustive court battles, and emptied bank accounts. But your divorce doesn't have to be that way. Most separating couples don't intend to be antagonistic or combative, and with professional legal guidance, there's a way to navigate the legalities of divorce amicably. I can help you approach your divorce process in ways that will allow you and your spouse to work together and resolve your differences productively.
DO I REALLY NEED A DIVORCE ATTORNEY IF MY EX AND I AGREE?
With a commitment to negotiations in good faith and to move forward without blame, the divorce process can be amicable. Just because you and your soon-to-be-ex are separating on friendlier terms, it's still essential to have an attorney in your corner for support. Whether your divorce is peaceful or emotionally-charged and complex, I will be there to make sure we take steps in your best interest and that of your family's as well.
I fully understand how emotionally draining and drawn-out divorce proceedings can be and strive to help both parties find common ground outside of the courtroom. You don't want to let a moment of anger or disappointment cause you to make poor choices or let a judge decide your fate. Trust Cordes Law PLLC in Southfield, MI, for the legal divorce assistance you've been looking for.
Divorce Attorney in Southfield, MI
Make the best decisions for you and your family by working with Cordes Law PLLC. Boasting over a decade of legal experience, attorney Tim Cordes will effectively represent you throughout your traditional or LGBT divorce proceeding. He'll explain all the laws pertaining to your case so you have everything you need to make sound choices when going through your divorce.